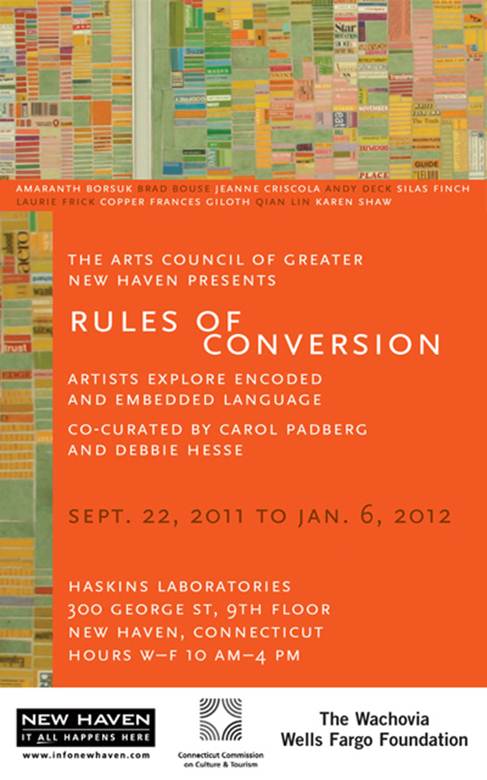 Rules of Conversions at Haskins Laboratories
The Arts Council of Greater New Haven, in collaboration with Haskins Laboratories, presents Rules of Conversions: Artists Explore Encoded and Embedded Language at Haskins Laboratories, 300 George St., 9th floor, New Haven. This exhibition will be on display September 22 through January 25, 2012. Regular viewing hours are Wednesday through Friday, 10 am to 4 pm. A public reception is scheduled for Thursday, November 10 from 5 to 7 pm.

Curated by Carol Padberg and Debbie Hesse with Curatorial Assistant Steven Olsen, Rules of Conversion explores encoded and embedded language. Increasingly, artists find methods to manipulate, find meaning in, and apply the structures of language as they conceptualize and create new work. In Rules of Conversion, each individual piece will provide context, with Haskins Laboratories providing a larger context for the collection as a whole. Where Haskins Laboratories studies the mechanisms that allow ideas and information to be shared, Rules of Conversion examines the myriad methods of delivery.